Recipes just like Miss Annie makes . . .
Recipes on this page:
Christmas Crunch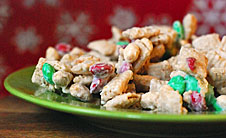 Ingredients:
9 cups Rice Chex cereal
24 oz. almond bark (Plymouth Pantry brand from Wal-Mart works great.)
16 oz. dry-roasted peanuts
12 oz. bag plain Christmas M&M's
Preparation Instructions:
In a large bowl, add cereal, roasted peanuts, and M&M's.
In 1-quart microwavable bowl, microwave almond bark uncovered on high 1 minute; stir. Microwave about 1 or 2 minutes more until mixture can be stirred smooth. Pour mixture over cereal, stirring until evenly coated.
Spread on waxed paper or foil to cool. Break pieces apart. Store in air-tight container.
Return to list of recipes
Pumpkin Bread
Ingredients:
1 1/3 cup vegetable oil
5 eggs
1 16-ounce can pumpkin
2 cups flour
2 cups sugar
1 teaspoon salt
1 teaspoon cinnamon
1 teaspoon nutmeg
1 teaspoon baking soda
2 3-ounce packages vanilla pudding mix (regular or instant)
Preparation Instructions:
Preheat oven to 350°F.
Mix oil, eggs, and pumpkin in mixing bowl and beat well. Add flour, sugar, salt, cinnamon, nutmeg, and baking soda to pumpkin mixture and mix until blended. Stir in pudding mix. Pour into greased loaf pans.
Baking times for loaf sizes:
Large loaf pan: 1 hour
Muffin pan: 25 to 30 minutes
Makes 2 large loaves or 24 muffins.
Return to list of recipes