Meet Miss Annie . . .
Annie McDaniel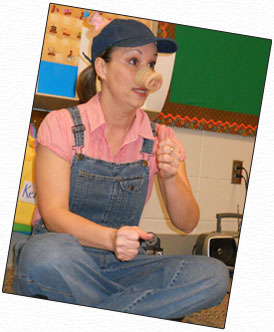 Miss Annie's Educational Adventures program began in 1999 when Annie McDaniel began to visit schools and day care facilities to present three programs about Native Americans, woodland animals, and the cornhusk doll. Her program continues to grow each year as she visits new schools, introduces new content and shares her vibrant, innovative presentations across the Birmingham area.
On non-teaching days, "Miss Annie" is wife to Darryl, mom to Shannon, Ashley and Madison, and Grammie to Isaac, Eli, Titus and Luke. For fun, Annie enjoys spending time with friends and family, running, and helping to care for others in her community in many ways.